WELCOME TO PROJECT WILD 2023!

Location:
This year, our meeting will be held on the beautiful campus of Alaska Pacific University. Enjoy four nights and 5 days on a campus where you just might wake up to a moose outside your window! Fly into Anchorage airport. APU is seven miles from the airport. Anchorage is a bustling town with many amenities and great restaurants.

Lodging:
To keep prices as low as possible, we will be using University housing. Long to hearken back to the carefree college days? Well, here's your chance! You have two housing options: Graduate student housing or dorm rooms. Graduate student housing has 3-5 rooms, a shared kitchen, living room, and bathroom. Dorms are mostly suites with a shared bathroom...they're dorms.
Atwood Dorms Schematic
Graduate Student Housing Schematic

Field Excursion:
We will be taking a wildlife cruise. The cruise includes lunch and they sell snacks/drinks. They guarantee no sea sickness! The excursion prices include cruise, bus fare, and tip. We depart for the cruise around 8:30-9:30 a.m.. The cruise departs at 12:30 p.m. and returns at 5:45 p.m. We will return to Anchorage around 7:30 p.m., where dinner will be on your own (maybe we can get pizza delivered?).

Draft Agenda:
Monday May 15:
Check in 3 p.m.
Dinner on your own (we'll most likely plan for something, somewhat informally, downtown)
Tuesday May 16:
8:30 Project WILD Business meeting (coordinators only),
10:00 - noon morning sessions
1:00-5:00 - afternoon sessions
Dinner on your own.
Wednesday May 17:
8:30-5:00 - Morning and afternoon sessions
6:30 - Banquet celebration and auction
Thursday May 18:
8:30 a.m. - 8:30 p.m. Field Learning
Friday May 19: Breakfast and departure. Check out by noon
Registration:
The registration form linked below was udated on Friday, January 27 with corrected pricing.
Download Registration Form Here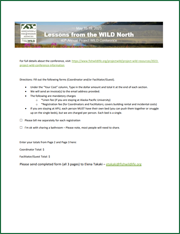 Cancellation Policy: Cancellations receive by April 13, 2023 will be refunded less a $100 administrative fee. No cancellations received after April 13, 2023 will be refunded, but substitutions will be allowed.
AFWA Duty of Care (Updated 2/2/2023)
We are excited to gather again in person! Our concern for your health and safety is our top priority, and we want to make your experience at the conference positive, and as professionally successful as in pre-COVID days. To that end, we are implementing the following guidelines that we hope will make you and your colleagues comfortable and safe. These guidelines are subject to change if new guidance is issued on, before, or during the conference by the State of Alaska or local jurisdiction.
Association guidelines:
You will be required to sign a waiver when you register.
If you have COVID symptoms while you are at the meeting, please remove yourself from conference event spaces and quarantine. Please let Elena know that you are symptomatic at etakaki@fishwildlife.org. We will share this with attendees but will maintain your confidentiality.
Call for Session Proposals:
Complete the Call for Propolals Form by March 3. If you can not use Google Docs, use this Word version.

Nominate a State Project WILD Coordinator for the Outstanding Coordinator Award!
Each year the Conference Committee reviews nominations and selects a recipient for Project WILD Outstanding Coordinator. You may nominate a fellow Project WILD coordinator or yourself. You may also share this nomimation form with other collegues. The deadline to submit nominations is March 3, 2023. Use this Google Form to submit a nomination or, if you are not able to use Google apps, you can use this Word version of the form.
See the list of past recipients of the Outstanding Coordinator Award.
Facilitator of the Year Awards:
WILD state coordinators have the option to have AFWA recognize a facilitator in your state for 2022-23. Use this Google Form to submit a name , or use this Word version of the form. Deadline to submit a name is March 3, 2023.
Questions?
Email projectwild@fishwildlife.org. Include "WILD Conference Question" in subject line.