Through activities involving language arts, social science and math experiences, coupled with community outreach and service learning applications, Flying WILD offers a whole-school approach to environmental education using birds as the focus. Targeted for the middle-school audience, though widely adaptable, Flying WILD offers practical hands-on classroom and outdoor field investigation experiences connecting real-world experiences in bird biology, conservation, and natural history.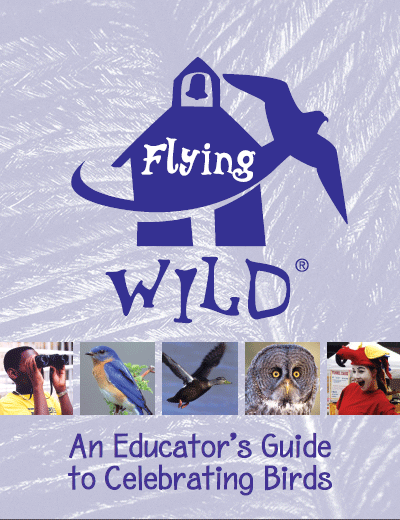 The purpose of the Flying WILD program is to engage middle schools in bird education efforts with the intent of encouraging increased environmental stewardship among youth. Special emphasis is placed on creating an approach that is readily adaptable for urban schools, often with underserved students who traditionally receive few opportunities to participate in environmental education initiatives.
Take a Peek Inside...
Flying WILD: An Educator's Guide to Celebrating Birds includes these key elements:
An overview for teachers
Details how school bird festivals and World Migratory Bird Day events can provide enriching and meaningful experiences for students while meeting educational objectives in science, social studies, language arts, etc.

Urban environmental education "guidelines"
Communicates best practices for urban educators.

43 fun, hands-on, minds-on activities
Provide students with ample opportunity to learn about basic avian biology, migratory bird facts, bird identification (bird flash cards) and environmental issues affecting migratory birds...before, during, and after a Flying WILD bird festival.

A list of bird education resources
Includes NFWF's bird education website, additional bird education materials, bird education groups, other applicable web sites, posters, maps, and videos on migratory birds and IMBD.

"In Step with Science Standards" boxes
Accompany each activity and indicate the activity's specific correlations to National Science Education Standards.

Questions for reflection
Accompany each activity as a means of assessing student knowledge and attitudes as they learn more about birds and their conservation needs.

A Service-Learning Projects section
Provides ideas for potential bird-related service-learning projects, including a case study of one successful project, and step-by-step instructions for participating in an ongoing nationwide bird count.

Ready to attending a Flying WILD training? Click here to contact your state coordinator or city partner today!
---