Each year, the Association's annual report highlights the outstanding participation of state, provincial and territorial fish and wildlife agencies, federal agencies and the greater conservation community and sportsmen industries in collaborating to realize the past year's accomplishments in:
Protecting fish and wildlife legislative priorities and funding mechanisms on Capitol Hill;
Protecting conservation authority in the U.S and abroad;
Coordinating science-based conservation on species-based programs and cross-cutting concerns;
Connecting more Americans to fish and wildlife conservation
Fostering conservation leadership; and
Enhancing relationships with federal agencies and the archery, hunting, shooting sports, boating and sportfishing industries to raise awareness of the North American Model of Wildlife Conservation.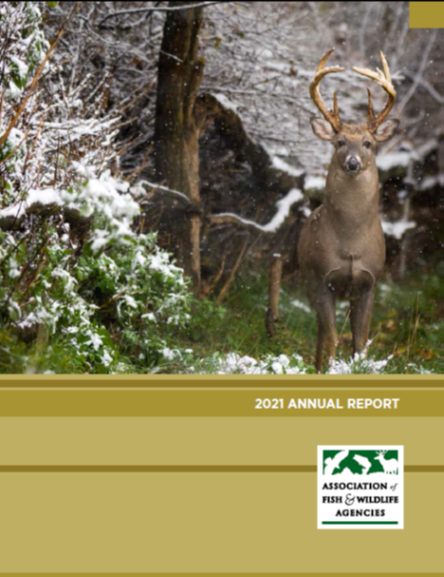 Read AFWA's 2021 Annual Report

The report also highlights AFWA's Annual Meeting and Annual Award recipients and features many incredible photos by state fish and wildlife agencies and regional associations.

If you would like to receive print copies of AFWA's report, please contact info@fishwildlife.org.