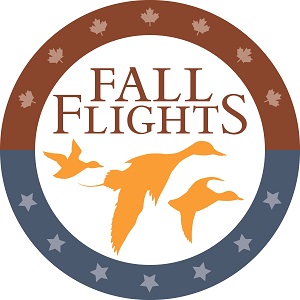 Fall Flights is a powerful partnership program for state fish and wildlife agencies. It helps drive state economies by supporting outdoor recreation, tourism and hunting opportunities. It advances important local and international conservation goals by making a long-term investment in the future. By funding critical habitat conservation work in Canada, the Fall Flights program ensures waterfowl and other migratory birds make their legendary fall flights to the United States every year.
Making the most of your state agency's dollars: Fall Flights leverages funding up to four times
State funding through Fall Flights is matched by Ducks Unlimited and leveraged with Canadian contributions and federal funding through the North American Wetlands Conservation Act. Its unique funding structure makes the most effective use of your conservation dollars, often matching them up
to four times. This multiplying effect maximizes habitat conservation and waterfowl production in Canada for an impressive return on investment.
Fall Flights begins with your state agency investments
The North American Wetlands Conservation Act (NAWCA) requires federal funding to be matched at a ratio of at least 1:1 with non-federal funds. A minimum of fifty percent of the matching funds used for projects in Canada must originate from non-federal sources in the United States. The net effect is that state agency investments are the critical first step to begin the fund leveraging process or to create the multiplier-effect that leads to significant conservation of wetlands and associated upland habitats in Canada
and the production of waterfowl that migrate south in the fall.
Why support waterfowl habitat conservation in Canada?
When it comes to safeguarding North America's waterfowl populations, success begins in the breeding grounds. Wetlands and grasslands in Canada are breeding grounds for millions of migratory birds that contribute to your state's environmental and economic prosperity. In fact, up to 70 per cent of North America's waterfowl breed in Canada. This habitat is the foundation upon which the cycle that all migratory bird conservation is built.
Investments made to Fall Flights have an amazing ripple effect. While contributions are often invested hundreds of miles away from your home state, rewards are felt locally when birds fill the sky each fall.
What is the Fall Flights goal for my state?
AFWA sets an annual goal for every state to invest a portion of their funding in Canadian conservation projects. Funds are generated primarily through the sale of hunting licenses or state duck stamps. The table below identifies your state's goal for investing in continental waterfowl conservation efforts.
2021 Fall Flights Task Force Report NEW 2021 State Goals
(Click on Report Cover to download)
Carrying the torch lit by the North American Waterfowl Management Plan
The backbone of Fall Flights is the North American Waterfowl Management Plan, or NAWMP. In the late 1970s and early 1980s, waterfowl populations were at historic lows. Conservationists recognized the link between breeding habitat conditions in Canada and fall flight numbers in the United States. They needed to join forces to give species a fighting chance. And they did. The NAWMP was formed in 1986. Today, it's one of the most successful conservation initiatives in the world. Fall Flights helps deliver the NAWMP's habitat goals in Canada.
---